boxes
boxes we produce
We produce boxes and die-cut components of various types, in corrugated cardboard, suitable for the various needs of the customer and other types of packaging such as practical and resistant boxes, made in all sizes and in all types of cardboard for all product sectors. We also produce die-cut components and boxes suitable for the shipment of hanging garments for the textile industry.
The boxes can be with handles, made to measure and customized boxes.We ensure the excellent quality of our boxes, to ensure maximum safety of the objects that will be deposited in the boxes and to prevent unpleasant injuries or scratches to precious things and of great emotional value and cheap.
All cardboard boxes are made in our factory with the use of technologically advanced machinery that works in total respect for the environment. Our strength is the use of fine materials, the result of the continuous search for technological solutions that constantly improve the product, always guaranteeing the customer the highest quality with particular attention to the economic side. Made taking care of every detail, the boxes and also the custom-made boxes we make are designed to last and be maintained over time, ensuring maximum safety. Large or small, long or narrow, cartons and packaging in general are in fact among the most transversal elements of all, capable of adapting to every need, thus representing the right solution for all needs.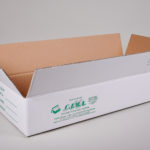 The boxes are customizable according to the size and color chosen by the customer.