SUSTAINABILITY AND CERTIFICATIONS
FSC certified products available on request
Safeguarding environment is one of the main points of the C.I.M.A. box factory's mission. especially in terms of the environmental impact that derives from the work processes and from the realization of the product. This is why the box factory is very attentive to the sustainability of the territory and the environment.
To implement this, the box factory has adopted a whole series of modus operandi such as the use of recycled raw materials, water-based inks, a LED lighting system and management of processing waste which is considered not as waste but as materials first secondary. In fact, the Scatolificio C.IM.A. committed to respecting high sustainability standards towards the community and future generations thanks also to the FSC recognition, the brand of sustainable forest management.
FSC CERTIFICATION
Responsible Forest Management Certification FSC® certification is an international, independent and third party certification, specific for the forest sector and products – woody and non-woody – derived from forests. This Responsible Forest Management certification ensures that a forest or forest plantation is managed in compliance with strict environmental social and economic standards. These standards are based on 10 Principles and 70 responsible forest management criteria, defined and kept up to date by FSC® with the participation of all interested parties.
THE PRINCIPLES OF FSC® CERTIFICATION
The Principles and criteria are valid all over the world and applicable to different forest ecosystems and types of management as well as cultural, political and legislative fields: starting from them, the International Generic Indicators (IGIs) have been defined with the 'objective of supporting the transfer of the Principles and Criteria to a set of indicators adapted to the national context. The goal is in fact to adopt National Standards in line with what is established at an international level, thus ensuring greater credibility and stability of the FSC® system. The Scatolificio C.I.M.A adopts these principles for the production of boxes on request, corrugated packs and cartons looking to the future and environmental sustainability and future generations.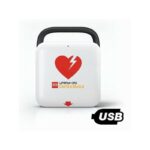 CARDIOPROTECTED COMPANY
The box factory C.I.M.A. cares about the health and safety of its employees and visitors, but also of the entire community. For this reason, it shared the value of the Cardioprotected Company project, equipping the site with a defibrillator (AED LifePack Cr2 USB), a simple and safe life-saving device.
Every year in Italy about 70,000 people are victims of sudden cardiac arrest. 15% of workplace deaths are due to sudden cardiac arrest. You can fight cardiac arrest in a simple and timely manner thanks to the defibrillator. Thanks to a quick intervention in the first few minutes, practicing cardiopulmonary resuscitation and using an AED, it is possible to give a second chance at life.
With this great act of responsibility towards the Community, the box factory wants to make its contribution to the construction of a solidarity network integrated with the 118 and aimed at combating cardiac arrest.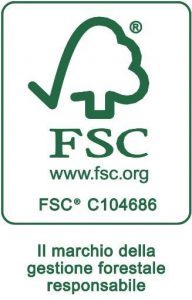 FSC® certified products available on request