SUSTAINABILITY AND CERTIFICATIONS
The mission of the CIMA box factory is to pay the utmost attention to the environmental impacts generated by its products and its production process. The use of recycled raw materials, water-based inks and other environmentally friendly products, combined with a LED lighting system and the management of processing waste, not as waste but as a secondary raw material, have always represented the cornerstones of our thinking based on the reduction of environmental risks and respect for future generations. The box factory C.I.M.A. is committed to respecting high sustainability standards, thanks also to the recognition of the FSC® certification, the brand of responsible forest management.
FSC CERTIFICATION
Responsible Forest Management Certification FSC® certification is an international, independent and third party certification, specific for the forest sector and products – woody and non-woody – derived from forests. This Responsible Forest Management certification ensures that a forest or forest plantation is managed in compliance with strict environmental social and economic standards. These standards are based on 10 Principles and 70 responsible forest management criteria, defined and kept up to date by FSC® with the participation of all interested parties.
THE PRINCIPLES OF FSC® CERTIFICATION
The Principles and criteria are valid all over the world and applicable to different forest ecosystems and types of management as well as cultural, political and legislative fields: starting from them, the International Generic Indicators (IGIs) have been defined with the 'objective of supporting the transfer of the Principles and Criteria to a set of indicators adapted to the national context. The goal is in fact to adopt National Standards in line with what is established at an international level, thus ensuring greater credibility and stability of the FSC® system. The Scatolificio C.I.M.A adopts these principles for the production of boxes on request, corrugated packs and cartons looking to the future and environmental sustainability and future generations.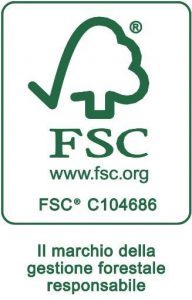 FSC® certified products available on request